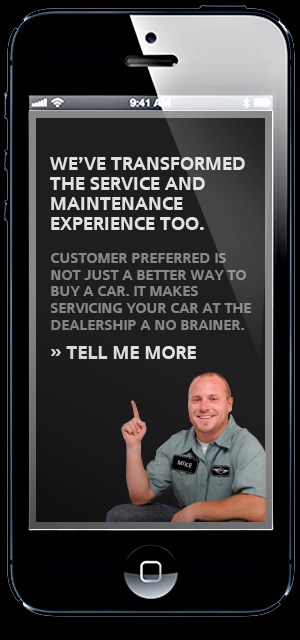 Customer Preferred is car buying and servicing the way you always wished it would be. No more wasted time negotiating and haggling. No more gimmicks or high-pressure sales tactics. And no need to spend hours upon hours at a dealership waiting to finalize paperwork before getting the keys to your car.
Simply put, Customer Preferred delivers an unmatched car buying experience that includes:
> Our best possible price clearly displayed on every vehicle, every day
> Non-commissioned client advisors
> Guaranteed trade-in offers based on the highest valuation available*
> A speedy, streamlined shopping experience
Let's take a look at why customers prefer Customer Preferred.

Our best price upfront on every vehicle.
Every day.
When you purchase a vehicle at our dealership, you can rest assured you are getting the best possible value. In fact, we clearly display our best possible price–upfront–on every vehicle on our lot, every day.

How we determine Customer Preferred pricing.
We take several steps to determine our Customer Preferred pricing. First and foremost, we shop and compare our competition to ensure we always remain competitive. We also monitor third-party pricing sources to see what other consumers are paying for the same vehicle. We even take into account all available factory rebates and incentives available to the general public in your region and automatically apply them to ensure you get the very best possible price.
This transparent approach to pricing is one of two primary ways Customer Preferred eliminates the need for wasteful negotiations. Let's talk about the other.

Non-commissioned client advisors
Another way we've eliminated haggling from the car-buying process is by shifting from commissioned sales associates to non-commissioned Customer Preferred client advisors. In other words, what you pay for your vehicle does not impact our client advisor's compensation.
Instead, we pay our client advisors a salary and reward them with an additional monthly bonus based on customer satisfaction. This approach eliminates any vested interest in negotiating a higher price so the focus is truly on your complete satisfaction—not our potential paycheck.

Guaranteed, highest valuation for your trade-in
Trading in your vehicle? Whether you're buying from us or not, you'll always get the highest available trade-in offer for your car. Guaranteed.
Here's how it works.
We run two trade-in valuations. We use a third party valuation source such as Kelly Blue Book (KBB) or Black Book Online and our own vehicle evaluator. You will automatically receive a guaranteed offer based on the highest valuation. No games. No gimmicks.

Simple, streamlined and fast
We get it. You're time is valuable. That's why we continue to take steps towards streamlining the entire transaction process so we can get you in and out quickly with the just the right vehicle for you.

When you come in to our dealership, we'll quickly go over the full benefits of Customer Preferred and how it works. We'll even cover some basic information on vehicle financing and disclose our lending rates so you can begin evaluating your potential financing options. Then, we'll get to work locating the perfect vehicle for you.

By spending a few minutes sharing and collecting information about our process and your specific needs, we can greatly expedite the buying process. And remember, since there's no need for time-wasting negotiations, the focus is truly on your complete satisfaction and nothing more.

As you can see, Customer Preferred really does change everything about the car buying experience. With the help of your feedback, we believe we've created the car-buying experience you've always wanted. And we continue to make improvements to ensure that we always deliver the best possible dealership experience.

That's why customers love us.

That's why we are Customer Preferred.


» VIEW INVENTORY